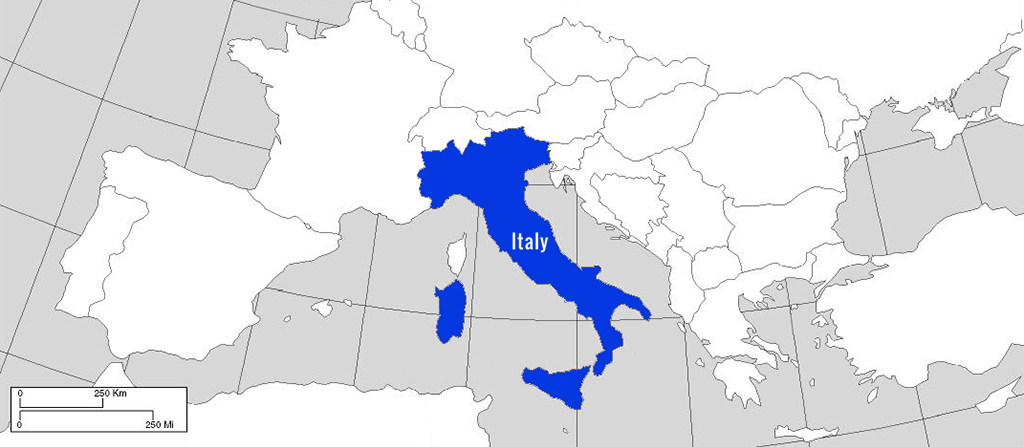 Italy is an European peninsula extending into the middle of the Mediterranean Sea and has a nice shape of boot with also the spur, which seems to kick the Sicily island towards the Sardinia island. To the north, it borders France, Switzerland, Austria, and Slovenia along the Alps, then the peninsula extends for about 750 miles (1,200 km) long in the Mediterranean sea; the Italian Republic also includes two major islands named Sardinia and Sicily and many other smaller islands.
Climate

The Italian territory is influenced by a typical Mediterranean temperate seasonal climate but it is decidedly milder in the south than in the north of the peninsula, due to its long extension toward the south and to the proximity to the Alps mountains in the north.
Typical temperatures:
– Winter (Dec/Mar) -1/10 °C North | 2/15 °C Center | 6/18 °C South
– Spring (Mar/Jun) 13/20 °C North | 15/25 °C Center | 16/27 °C South
– Summer (Jun/Sep) 25/30 °C North | 28/32 °C Center | 28/35 °C South
– Autumn (Sep/Dec) 8/21 °C North | 15/23 °C Center | 17/25 °C South
Attractions

In Italy every season has its fair attraction: in summer we usually go to the sea, while in winter exploring the mountains and skiing are the favorite activities. Then in spring and in autumn we suggest you to visit our main art cities and to travel inland through our hills and lakes, discovering our traditions and our local food, resting in our cottages.
These are the traditional ways to approach Italy, but please consider also to approach Italy in a non-traditional way as many people choose to do, and this is also my favorite way. For example I love winter at the sea: try to imagine deserted beaches, no fuss, the distant horizon, the sea and the sky with bright colors, clear and mild days with fresh Alpine air, while you walk on the beach or on the boardwalk … these feelings for me are priceless!
Wine & Food

In Italy the culture of healthy eating and well eating is everywhere: we think that eating well is to live well and Italian food is unanimously recognized as the best in the world. Each Italian region has its own culinary specialties, and even traveling on the highway in many rest areas you can taste and buy typical products of that site.
Abroad our most renowned specialties are pasta & pizza, but in fact in Italy each plate is prepared with care, properly combining the tastes and paying attention to the ingredients balancing. Often we try to emphasize the taste of a particular ingredient rather than mixing too many different tastes just obtaining in fact a strong and manipulated taste.
Accomodations

In Italy there are quite all accommodation solutions, from luxury resort hotels to family rural cottages, therefore the best solution for your accommodation depends mainly on the place that you want to visit and on your personal needs. For each place published in our website we try to list the most used solutions for accommodations in that area.
Discover Italy
To discover Italy consider to find your favorite journey reading our travel ideas or if you have particular needs consider our custom travels service. Then for any further information please do not hesitate to contact us.